About The Bunkhaus
Way back in 1992 I had four busy kids and a small house  I also had a computer I was fond of and I wished for a place of peace and quiet in which to use it. My garage was used only for storage (not for cars) and one day in the dead of winter I partitioned off a small space (9' x 8') for a room. Eventually I ended up putting in a built-in twin bed, a piece of kitchen countertop for a desk, a baseboard heater, window, bookshelves on the walls, carpet and a tiny closet. Very snug, very quiet and very peaceful.
Having read many western pulp novels I was familiar with the bunkhouse. It was the living quarters for the cowhands, complete with a wood stove, bunks, tables and a coffee pot. It struck me that my room and a bunkhouse were very similar (although I made my coffee in the house) and so I started calling my room the Bunkhaus. I changed the spelling because (A) I liked it, and (B) I was using a DOS computer at the time and filenames were only 8 characters long.
I learned to program in C in the Bunkhaus, along with learning Windows as it developed. Being the coolest room in the house it was an attractor for the rest of the family. Bonne would come out and read on the bed, and the kids would follow; imagine 4 or 5 people in that tiny space. At least I could order all and sundry out of the room and once again regain my sanity. Then, as now, the Bunkhaus is the place where I hang out, work on my computer skills and relax.
About me...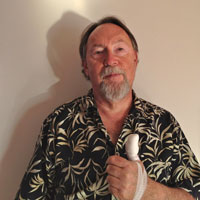 As for me, I'm a 66 year old male who has lived all his life in the western U.S. Happily married for 41 years, my wife Bonne is a constant source of comfort and joy. Together we raised 4 strong, independent children, now all grown. I worked in Telecommunications for almost 33 years, retired, and spent the next 3 1/2 years remodeling and building an addition on our home.
I worked some part-time jobs since retirement; none gave me any real satisfaction and since I retired for good I've been working hard on the things I want to do, like improving my video and audio recording skills along with the associated editing. Also practicing my bass and playing with GarageBand.
I've been a Mac guy since 1998 and have had up to 5 Macs in the house at the same time, doing various things. Right now I'm gaining skills in video editing with Final Cut Pro X and Resolve. Once the band documentary is finished I want to start another project, because Practice makes perfect.